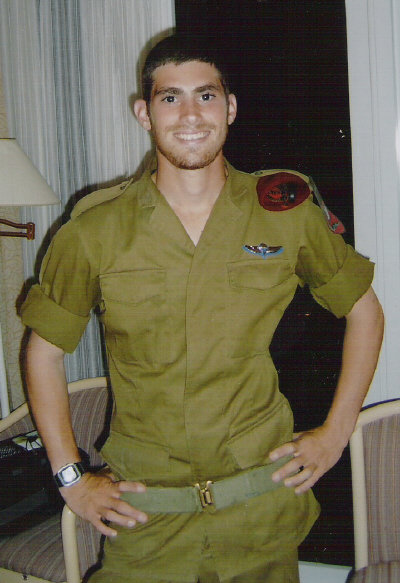 Michael Levin, (z"l) was the first Paratrooper and the only American to die in the 2006 Second Lebanon War.
Born and raised near Philadelphia, Pennsylvania, Michael grew up in a traditional, loving Jewish household. He was active in HaGesher Region USY and attended Camp Ramah in the Poconos. In February of 2001, Michael went to Israel for two months and attended the Alexander Muss High School program. After graduating high school, Michael attended the NATIV USY yearlong program in Israel. In his AMHS yearbook he wrote:
"You can't fulfill your dreams unless you dare to risk it all"
At the young age of 16, Michael had decided that he wanted to move to Israel and join a front-line combat unit in the Israeli Defense Forces. He followed his dream three years later, and immigrated to Israel, joining the elite paratroop unit #890 shortly thereafter. Within the year he quickly rose to the rank of First Sergeant, with hopes of becoming a career officer.
In the summer of 2006, Michael had received permission to travel to the United States to visit his family. When he heard about the outbreak of the war, he decided to end his trip and return to Israel to help his unit. He went straight to his commanders and demanded to be sent up north to defend Israel against Hezbollah. Seven days later he was killed by a sniper in the southern Lebanese village of Aita al-Shaab.
On Tisha B'Av, Michael Levin was laid to rest at Mount Herzl Cemetery. His family – mother Harriet, father Mark, sister Elisa and his twin sister, Dara and Uncle Rob — flew in from Holland, Pennsylvania. They were joined by thousands of people from all over Israel who came to pay tribute to his memory and heroism.
Michael Levin was the personification of the word 'hero'. He made the ultimate sacrifice for the Jewish State and the Jewish people.
May his memory continue to be a blessing to all of Israel.
Watch the documentary "A Hero in Heaven" to learn more about Michael Levin and his devotion to his family and the land of Israel.
Learn how you can support Lone Soldiers like Michael Levin.
Michael Levin made Aliyah from Philadelphia in 2002 and joined the Paratroopers. In the summer of 2006, he was given leave to visit his family in the United States. Two weeks into his trip, war broke out on Israel's northern border.Michael cut short his vacation and flew back to Israel to serve with his unit. Although his platoon had already been deployed in the north and he was being told he couldn't rejoin it, he demanded permission to be with his fellow soldiers – and the IDF brass relented. When Michael arrived, his squad was dispatched to the village of Aita al-Shaab, a Hezbollah stronghold. On Tuesday, August 1, Michael's unit advanced on the village and engaged in an intense fire-fight with enemy forces.
Tragically, Michael was killed in action, at the age of 22.
During Michael's service, he befriended Tziki Aud, a 27-year veteran of the Jewish Agency who specialized in supporting new immigrants in Israel, with a particular focus on Lone Soldiers. Michael shared with Tziki a dream of his, that one day there would be a center for Lone Soldiers, where they could receive meals, support, and advice throughout their army service.
With the help from Tziki and Michael's friends, The Michael Levin Lone Soldier Foundation today helps thousands of Lone Soldiers all over Israel. It's only fitting that the organization is named in Michael Levin's memory.